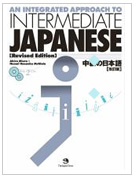 AN INTEGRATED APPROACH TO INTERMEDIATE JAPANESE
[Revised Edition]


[ With 2CD ]

Akira Miura
Naomi Hanaoka McGloin

3,520 yen (tax included)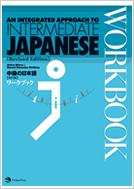 WORKBOOK


1,650 yen (tax included)

BookProfile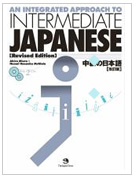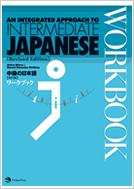 ♦Title
AN INTEGRATED APPROACH TO INTERMEDIATE JAPANESE[Revised Edition]
♦Format & Price
wTextbook: B5 softcover, 352 pages with 2 CDs. 3,520 yen (tax included).
(ISBN 978-4-7890-1307-9)
wWorkbook: B5 softcover, 128 pages. 1,650 yen (tax included). (ISBN 978-4-7890-1308-6)
♦Authors
Akira Miura, Naomi Hanaoka McGloin


---
A best-selling resource for comprehensively building speaking, listening, reading and writing skills in intermediate Japanese
This book is a revised edition of AN INTEGRATED APPROACH TO INTERMEDIATE JAPANESE, a best-selling resource for intermediate Japanese-language studies.
Designed for learners who have completed beginning-level studies, this book helps users to build their proficiency in intermediate Japanese across all four skill areas--listening, speaking, reading, and writing--while also providing them with a deeper understanding of Japan and its culture.
As with the original edition, this revised version comprises fifteen lessons that are each centered on conversation and reading, and include words, kanji list, grammar note, operation practice, listening practice, and speed-reading. As a new feature, each lesson also contains the point of conversation practice to provide practice in line with the lesson's function.
Conversation and reading have been updated to reflect the current language style and trends of Japan. To facilitate greater in-depth learning, grammar note and grammar practice have been expanded with more learning points and explanations.
A separate workbook has been newly created so that learners can pursue self-study in conjunction with their classwork. The grammar practice have been moved to this workbook, which also contains two new items: exercises to check the learner˘ understanding of the reading passages, and kanji sheet for practicing the characters listed in the textbook˘ kanji list.
The audio material has been completely re-recorded on two CDs that accompany the textbook, allowing learners to readily access particular recordings when they study. The CDs contain not only the conversation and listening practice, but also all reading passages.
For more details on the book, download the PDF linked below.

Introduction (in Japanese, PDF)
Sample download
Sample Contents: Textbook (PDF)
Sample Contents: Workbook (PDF)